Events at the Inn
Romantic Beachfront Weddings
Our Beachside Pergola is a very special place for a small, intimate wedding or renewal of vows. The venue has all of the romance and ambiance of a beach wedding without getting sand in your shoes, unless of course, you want to! Choose a ceremony for up to 40 people or RESERVE THE ENTIRE INN FOR CEREMONY.
For your "Special Day" we will provide you with an Officiant, white chairs, decorated pergola, wedding runner and music. Prices range from $540 - $1040, based on the number of guests. Please call for rate specific information 321.728.9334
Bonnie L. De Lelys, General Manager
Romantic Beachfront Elopement
Elopement Package Includes:
• Full breakfast each morning
• Champagne at your table for two
• Bottle of champagne, wine, or sparkling cider to celebrate your special day
• Small bridal bouquet
• Wedding ceremony performed at our private gazebo overlooking the ocean by our onsite Officiant
• Photography taken by staff or you may have your own photographer
• Wine, cheese and crackers upon arrival
• Wedding cake for two
Reserve the room of your choice for 2 nights and add $750 for your private Elopement Package. Windemere Inn by the Sea will be happy to help plan your Special Day!
Please call 321.728.9334
E mail: stay@windemereinn.com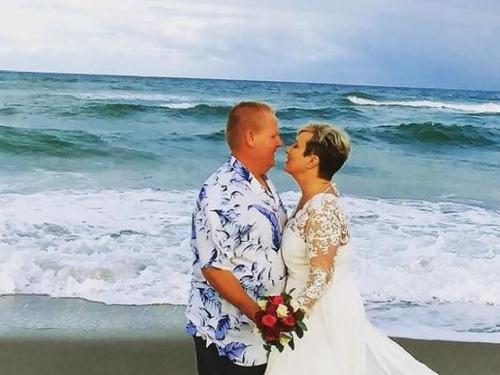 Elopement Review from one of our Guests! 11.25.17
My husband and I had our elopement here. It was absolutely perfect! Bonnie and Patricia were wonderful and made sure my day was perfect and exactly what we wanted! I couldn't have asked for anything more. We hope to go back for our first anniversary next year. The room was gorgeous and clean and Bonnie was always available and willing to help with anything. Our day was perfect!